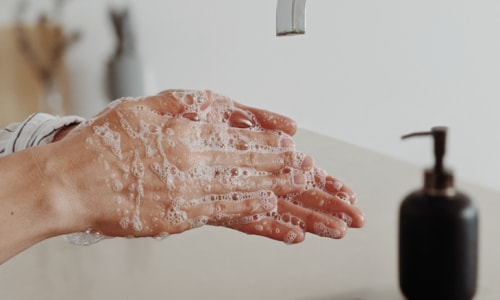 COVID-19 et al: Virus spreads and never spares!
In a country where religion/politics is the fulcrum of operation, I have always witnessed curfews or 'lockdowns' around political contexts. The present situation is history in itself, of course by far the unhappiest chapter witnessed. But so be it. The single silver lining is the cliché – this too shall pass.
Even a petty viral fever is known to live its scheduled life and then perish but it sets the immediate periphery of humans on an alert mode. It's infectious! Here's a slightly deeper delve into the viral journey of any virus from the blood to the mind…
Being just about 9 months into the domain of HIV, I have attended inductions on HIV facts &statistics, the life-saving ART(Anti Retroviral Therapy) and most amazingly, shared the same physical space with HIV positive people, who till now existed only in the mind or in films. They battle the virus within the body as well as the stigma beyond the body. Fortunate is the tier who is educated and can make ends meet. Some of my colleagues are just braving it off and outsmarting the challenges incredibly. The grey clouds hover around those (and they are, I suppose, the majority) who are not only immune-compromised but resource-compromised too. They are dependent on the government for medicines and non-profit organizations for care and support. That little green HIV card they carry while seeking treatment is not exactly one would love to flaunt. One such visit to an HIV care & support centre shook my emotional balance. The entire gathering had the vibes much like that of a well-planned school-friends' get-together! So much was being shared, so many domestic stories were exchanged, health updates, jokes cracked, some elderly lady enacted how she faked that green card as her diabetes record to her curious daughter-in-law etc. Amidst varying anecdotes, one reaction was common to all. Even before being asked, each of them would say he/she was clueless about getting HIV. This defense mirrored the societal discrimination aptly. A cautious attempt to dissociate from any shady sexual act at some point in life, because to a vast majority of population, HIV rings this bell, even today! Some had different utensils earmarked at home, some were asked to stay away, some said they were kept out of auspicious events and so on.
That evening and its revelations, which were so disturbing till few months back, suddenly is a memory of a blissful gathering of 'positive'(literally!) people. At least they weren't socially distant from each other, they weren't asked to quarantine themselves. The Human Immunodeficiency Virus isn't that brutal at least.
And then this novel virus – Covid-19. Already 5,33,000 under its grip and 24,093 deaths globally and in India 724 preys with the death toll rising to 17.
We are suddenly home-locked, afraid to be in proximity with other humans, frantically washing hands , thinking twice before wasting food, counting death tolls and apprehensive of tomorrow's provision ! While the clinical pointers around the spread of Corona virus are clearly laid down, yet many young doctors are asked to vacate houses by landlords. All that we CAN DO to combat is to stay indoors evading all kinds of social contacting…but all that we SHOULDN'T DO is to draw up our own charter of myths around the virus.
Every pain is a battle in itself and there shouldn't be any comparison of degrees. Since December 2019, the world is praying for a Covid-19 vaccine with relentless hope. And then this…Ever since its first detected infection in 1959 , Congo, people living with HIV are still hoping against hope for a vaccine.
Without measuring the two waiting, let us be kind and supportive to the victims.
The line between social distancing and social ostracizing is too thin actually. Let the focus just be on testing kits, sanitisers and masks in times of Covid-19 attack and on facilitating linkages to ART and other peripheral support in case of Human Immunodeficiency Virus. In a country where the population is expected to touch 1326 million by the end of 2020, public health needs to be top priority of the state. Such unforeseen endemics where we don't even have enough testing kits ,further ascertain that.
Let's fight against the virus in the blood. Let the mind be light and free of stigma !
Written by: Mou Mukherjee, End AIDS India
Recent Blog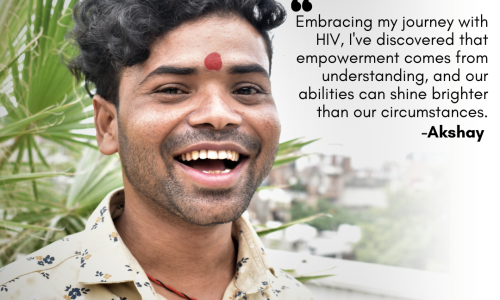 Empowering Lives Overcoming HIV Misinformation with Determination and Hope:
At 22 years old, Akshay firmly believes that life revolves around the lessons you acquire and the abilities
Read More...
22 Aug 2023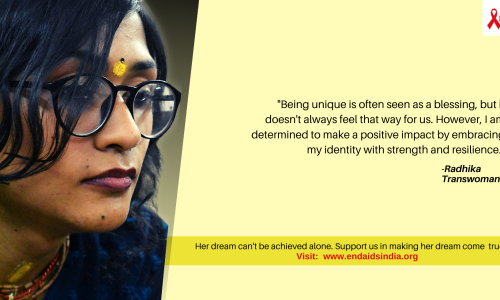 Building an Inclusive World: Empowering the Trans Community Together:
Hi, I am Radhika. I face many challenges as a Trans woman when it comes to finding my
Read More...
20 Jul 2023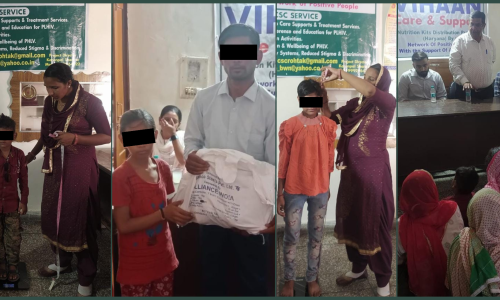 Empowering Young Warriors: Nutrition Kits for Children Living with HIV:
We're thrilled to share the success of our recent nutrition kit distribution to children living with HIV (CLHIV)
Read More...
12 Jul 2023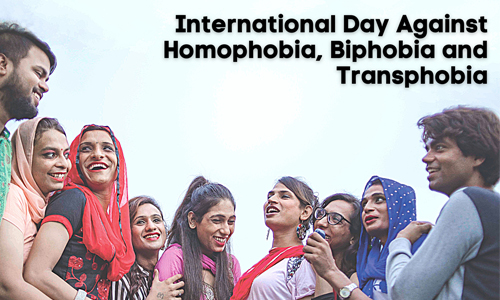 The Struggle of Embracing Identity International Day Against Homophobia Transphobia and Biphobia:
"I've never had an interest in fading into the background and becoming invisible. Let's start with this powerful
Read More...
17 May 2023