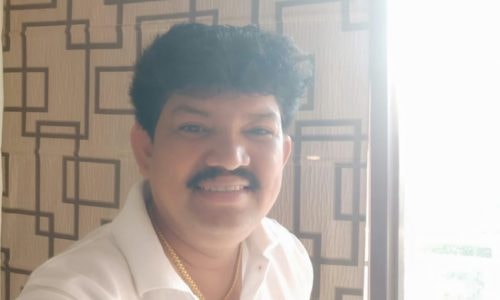 COVID-19 weakened my body, but my resolve to live remained undaunted
I am Subramaniam and I am a fundraiser. Let me share with you about my experience of testing positive for COVID-19.
I live in Chennai with my wife and a ten-year-old daughter. I fundraise for End AIDS India campaign which means I solicit funds from individuals and small businesses to contribute towards HIV free and healthier India. In my long association with End AIDS India campaign, I have understood how critical it is to sustain HIV programmes to reach India's goal of making the country HIV free. This is precisely why I sprung to action as soon as the lockdown was lifted from my area. People living with HIV generally suffer low immunity and are susceptible to other infections. I knew we cannot halt fundraising and supporting more than 1.4 million children and adults living with HIV registered with our programme and provide them with life-saving medicines, food, essential supplies.
Aware of the highly contagious nature of the novel coronavirus I took all possible precautions when setting out to meet people. I used gloves, face masks and even went as far as using handkerchief over the face mask for double shield. I don't know when and how but on the 14th of July I started developing mild fever and headache. In the last few months, we have all watched TV and heard about these symptoms of the novel coronavirus. It was surreal to experience the symptoms in-person. Immediately, I went to the doctor, he gave me some tablets for fever and advised me to go for COVID-19 test.
I went for the test and on 19th July I was informed that my test result is positive for COVID-19. My immediate reaction was that of a shock then I was petrified. My family got worried. I was immediately admitted to the Rajeev Gandhi Super Specialty hospital while my wife and daughter were assisted for COVID-19 test. We waited for their results anxiously. On 21st July, the test result of my wife came negative, however, my ten-year-old daughter tested positive for COVID-19 although she didn't have any symptoms. I felt worse after hearing this news. As the reality set in, I focused on doing everything to fight back. I told myself, I will be alright and my daughter will be alright. I focused on the treatment and defeating COVID-19.
My wife was asked to send my daughter to the hospital unaccompanied. We couldn't bring ourselves to send the poor child alone so we requested the hospital to allow home quarantine instead. Thankfully they agreed, and my daughter was confined to a separate room and bathroom in the house. Our house was sealed off as a containment zone with big banners of notices in the public interest. The government department would send someone to buy essential supplies like vegetables, milk and groceries for my family.
On the 6th day since I contracted COVID-19, I started experiencing a breathing problem. My oxygen level dropped to 74 and I was then put on a ventilator for one entire night, the next day, I was breathing with much more ease, and my pulse rate had become normal. This was a huge relief. I felt the worse is now behind me. In the COVID ward, there were about 30 other patients, and we were advised to wear face masks at all times. I witnessed three deaths of young women who were chatting the night before but gone the next morning. Naturally, it was a scary situation, anything could happen to anyone. However, I was determined to fight back, I would often repeat to myself – I am alright, I am alright, I am alright.
On the 8th day, I requested the doctor to allow me to quarantine myself in a separate flat near my home. He agreed and discharged me the same day. I adhered to all medical devices and additionally started doing yoga and breathing exercises. On the 14th day, I did COVID-19 test again and the result, to my huge relief and delight, it was negative. I couldn't believe I had survived COVID-19. Thankfully, my daughter also tested negative on the 14th day so we were overjoyed.
During my home quarantine, I noticed that my neighbours were avoiding me and didn't want to talk to me out of fear of COVID-19 transmission. Even though I knew the reason why they were avoiding, rejection and alienation didn't feel good at all. I have done no wrong and it is not my fault that I got the novel coronavirus. Eventually, when the sealed banners and notices were removed from my house, our family reunited and the friends and neighbours around us also came to visit, thankfully, things went back to normal.
This whole experience of COVID-19 made me realise what people living with HIV must be going through when they are excluded and stigmatized even though HIV is not as contagious as coronavirus. In HIV, it is safe to hug, shake hands or to eat together. Still, they face alienation from family and society. I realized how important it is to mobilise support for them and as a fundraiser, I want to work harder to fundraise for HIV programmes.
As soon as I got well I resumed work. I know how difficult it is to fundraise and when donors agree to support it is our duty to see that the support reaches on time. My sense of responsibility towards the community of people who are fighting another virus HIV has doubled after this experience. COVID-19 situation has hit small business owners and self-employed people quite severely. Many of the regular supporters tell me, we want to donate but we don't have an income any more. However, I don't get disheartened by one 'no'. I keep approaching our donors and encourage them to donate because we cannot let HIV win.
During this experience of COVID-19, I received much support from End AIDS India colleagues. My fellow fundraisers were regularly in touch with me and kept encouraging and motivating me throughout. ­­­­I am so glad to have survived the novel coronavirus while so many lost their lives fighting against it.
Recent Blog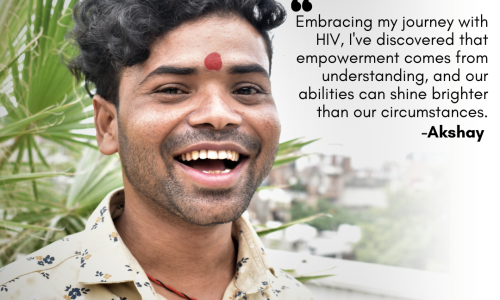 Empowering Lives Overcoming HIV Misinformation with Determination and Hope:
At 22 years old, Akshay firmly believes that life revolves around the lessons you acquire and the abilities
Read More...
22 Aug 2023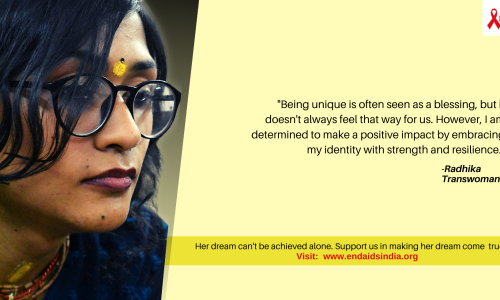 Building an Inclusive World: Empowering the Trans Community Together:
Hi, I am Radhika. I face many challenges as a Trans woman when it comes to finding my
Read More...
20 Jul 2023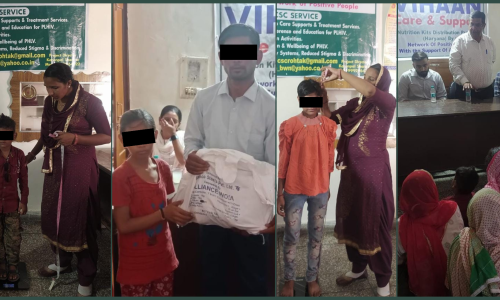 Empowering Young Warriors: Nutrition Kits for Children Living with HIV:
We're thrilled to share the success of our recent nutrition kit distribution to children living with HIV (CLHIV)
Read More...
12 Jul 2023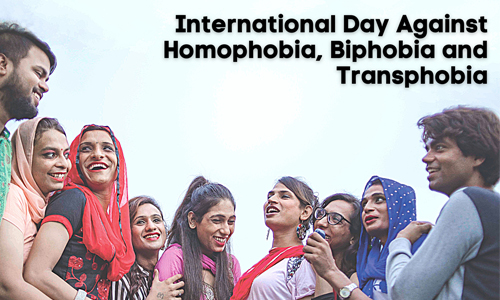 The Struggle of Embracing Identity International Day Against Homophobia Transphobia and Biphobia:
"I've never had an interest in fading into the background and becoming invisible. Let's start with this powerful
Read More...
17 May 2023