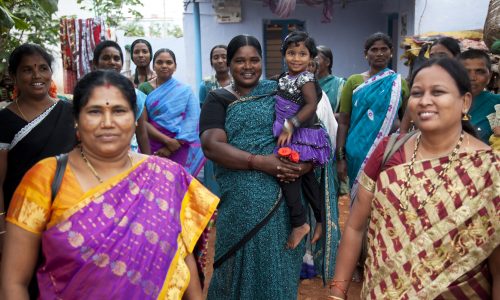 Why You Should Support End AIDS India Campaign
End AIDS India is a national campaign and a public movement to end HIV and AIDS in India. It is led by Alliance India (India HIV/AIDS Alliance), a trusted non-profit organisation with the commitment and faith of more than 50,000 individuals and institutions who have financially supported the campaign and continue to believe in the campaign goal to create zero impact: zero new case, zero death due to HIV and zero incidence of discrimination.
Change begins with one action, YOU are the change
Globally, nations and leaders have a mandate to end HIV as an epidemic by 2030 and put an end to HIV transmission and deaths while improving the quality of life for those living with HIV. India is on track with the milestones set against global HIV targets by UNAIDS. However, with the emergence of a new public health crisis brought about by the COVID-19 pandemic poses threat to the progress achieved by the communities vulnerable to HIV. We must combine healthcare services on HIV and COVID-19 to protect and build the resilience of our communities. This is not possible without the participation of individuals like YOU who could affirm the ambitious vision of End AIDS India campaign and help India stay on track to end HIV by 2030.
People living with HIV are each other's strength, YOU can help build their resilience.
We are proud to say that 90% of our frontline workers are people living with HIV. They are peer champions, outreach workers and counsellors who provide critical services such as amplifying awareness about the disease, verbal screening, linkages to treatment, encouragement to stay on treatment, active HIV support group, door-step delivery of medicines during pandemic and much more. Sometimes they spontaneously respond to situations beyond the programme design, out of sheer passion and comradery. Your financial support enables them to keep fighting for their own community. People living with HIV stand with each other, YOUR support will boost their morale and collective strength.
Through End AIDS India campaign YOU can help save lives
We are neither fighting alone nor fighting in the dark. We are armed with data, evidence, expertise and strategy to guide our actions. We work closely with National AIDS Control Organisation and its state chapters, the network of HIV positive people and community-based organisations to deliver HIV services to more than 14 lakh people living with HIV in India. With your financial support, YOU can activate the robust mechanism and coordination between the partners to take action towards securing a healthier and brighter future for people living with HIV.
We are not safe until everyone is safe
HIV can infect anyone. Although there are certain populations more vulnerable to HIV such as those who inject drugs or engage in sex work, everyone is at a certain degree of risk. HIV is mainly transmitted through sharing injecting equipment with HIV positive persons, passed from mother-to-child at birth or during breastfeeding, contaminated blood transfusions and organ/tissue transplants or unprotected sex.
Not many people know that if an HIV positive person is on regular treatment, the viral load (viral count) in the body is greatly reduced or suppressed. If the viral load of an HIV patient is suppressed, the chances of him infecting another person are lesser. This is why HIV programmes emphasize treatment adherence among people living with HIV by addressing the hurdles which prevent people from strict adherence to the treatment regime.
By supporting End AIDS India campaign, you not only help people living with HIV to lead healthier lives but also safeguard the future generation from HIV and its detrimental impact.
Recent Blog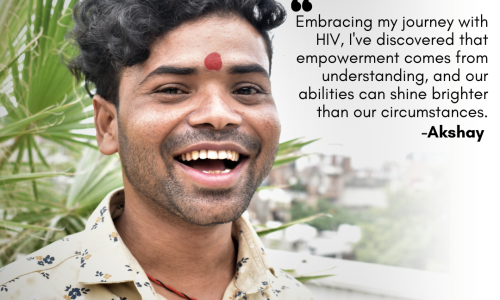 Empowering Lives Overcoming HIV Misinformation with Determination and Hope:
At 22 years old, Akshay firmly believes that life revolves around the lessons you acquire and the abilities
Read More...
22 Aug 2023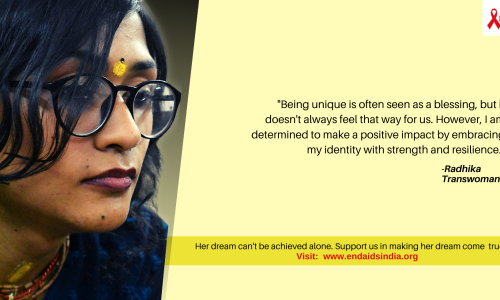 Building an Inclusive World: Empowering the Trans Community Together:
Hi, I am Radhika. I face many challenges as a Trans woman when it comes to finding my
Read More...
20 Jul 2023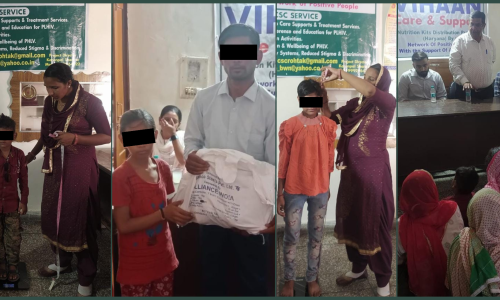 Empowering Young Warriors: Nutrition Kits for Children Living with HIV:
We're thrilled to share the success of our recent nutrition kit distribution to children living with HIV (CLHIV)
Read More...
12 Jul 2023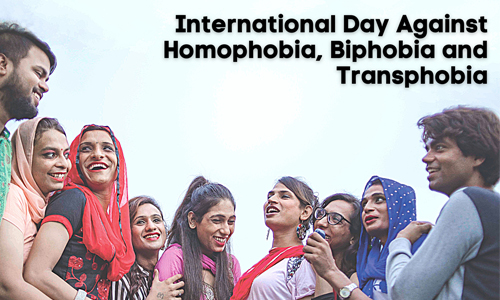 The Struggle of Embracing Identity International Day Against Homophobia Transphobia and Biphobia:
"I've never had an interest in fading into the background and becoming invisible. Let's start with this powerful
Read More...
17 May 2023